On-site Services
Sodexo's comprehensive, integrated solutions cover a wide range of services from construction to reception, sterilisation of medical equipment, cleaning, foodservices and prisoner rehabilitation. Our On-site Services (formerly On-site Service Solutions) are available in seven client segments:
Integrated Facilities Management Services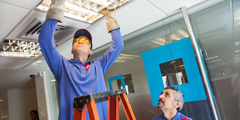 Having everyday contact with our clients give us unique insights into issues and challenges they face. Building on a heritage of delivering technical maintenance services, Sodexo today has grown into a supplier of choice for a wide palette of sophisticated Asset Management and Engineering services.