About HMP YOI Peterborough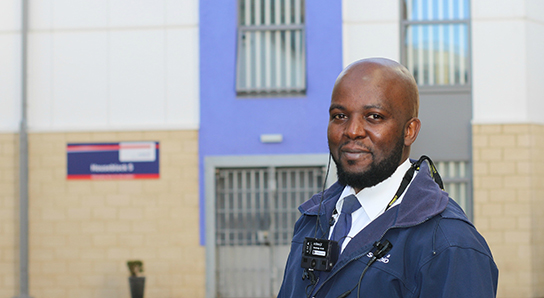 Built on the former site of Baker Perkins engineering works, HMP YOI Peterborough opened in March 2005 and comprises a local category B prison, a closed women's prison and a category C extension, operated by Sodexo Justice.
HMP YOI Peterborough is the only purpose-built prison in the country to accommodate both male and female prisoners, who are kept separate at all times. The prison also has a mother and baby unit on site.
In line with Government policy, all prisons across the country are to become smoke free. The female prison became smoke free on 11 September 2017; the male prison became smoke free on 29 January 2018. Please note, all tobacco products are now considered contraband.
Safe and secure living for residents
Our objective is to provide a safe and secure living and working environment for residents in our care. Our aim is to reduce reoffending through the provision of a rehabilitative culture, offering education and training opportunities, together with support from agencies both within and outside the prison.
Our Outside Links centre provides a vital point of contact and support for those who have been released from custody, helping them to take the first steps towards building a new life in the community.
Accommodation
Details about the main male and female accommodation blocks.
Female: The uncrowded capacity is 360 including a separate Mother and Baby Unit which can accommodate 12 mums. The main accommodation comprises of two houseblocks each containing five wings.
Houseblock One holds women on remand and sentenced YOIs, stabilisation, Induction, Lifers and open unit.
Houseblock Two holds a foreign national unit, complex residents unit and all sentenced women.
The majority of the accommodation is single occupancy and the wings hold on average 38 women. There is a Separation and Care unit and a 15-bed healthcare facility.
Male: The current crowded capacity for male residence is 868. Each wing houses approximately 80 residents with the exception of Z2, the enhanced wing, which has 64. There are twelve wings on the male side across three houseblocks.
Each cell has integral sanitation and the wings each have shower facilities, a servery area plus an association area. There is a Separation and Care Unit which holds 14 prisoners and an inpatient Healthcare unit which can hold up to 14 residents.
Early Days Centre - male prison
Providing peer support to new prisoners to help them adjust to the prison environment.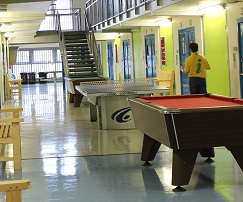 We understand that coming into prison, especially for the first time, can be very daunting and overwhelming. To help support men arriving into HMP Peterborough, we have made changes to our induction processes, repositioning them as 'Early Days In Custody' (EDIC) and rebranding one of our wings as the Early Days Centre.
By creating a dedicated residential wing and placing signs for the Early Days Centre in both reception and at the wing gates, we are creating a tangible journey for new prisoners between their arrival and subsequent move into the general prison population. Spending time in the Early Days Centre will help new prisoners to settle into the routines and processes of the prison, as well as enabling staff to ensure that any early concerns or issues are identified so that appropriate support can be provided.
New prisoners can feel overwhelmed by their move into the general population, seemingly blending in but still experiencing difficulties and challenges.
The time spent in the Early Days Centre is designed to properly equip them with the information and support they need to best manage their time in custody. It is an opportunity to ensure that they are familiar with processes such as ordering menu selections, purchasing items on the canteen, accessing visits and essential information for training and education.

A key part of the Early Days Centre is the presence of 'Insiders' – existing prisoners who have been vetted and trained to provide peer support to new arrivals. The Insiders are able to spend time with them to explain how the prison works, what is expected of them and what they can expect during their time in the prison.
Insiders are an important link between staff and prisoners. There may be times when a prisoner is unsure of a process, needs information or advice and doesn't feel comfortable approaching prison staff. The Insider can provide the familiarity and understanding of someone who has been in their position, speaking from a position of empathy and experience.

Insiders can also help staff to identify prisoners who may be struggling to adjust or require additional support. As part of their duty of care and without breaching confidentiality, they are able to flag to staff that a prisoner may be feeling down or showing signs of potential self-harm, enabling officers to monitor their wellbeing and offer support where appropriate.

Mother and Baby Unit
Our MBU offers a positive environment where the bond between mother and baby can develop while women complete their sentence or while they are held on remand.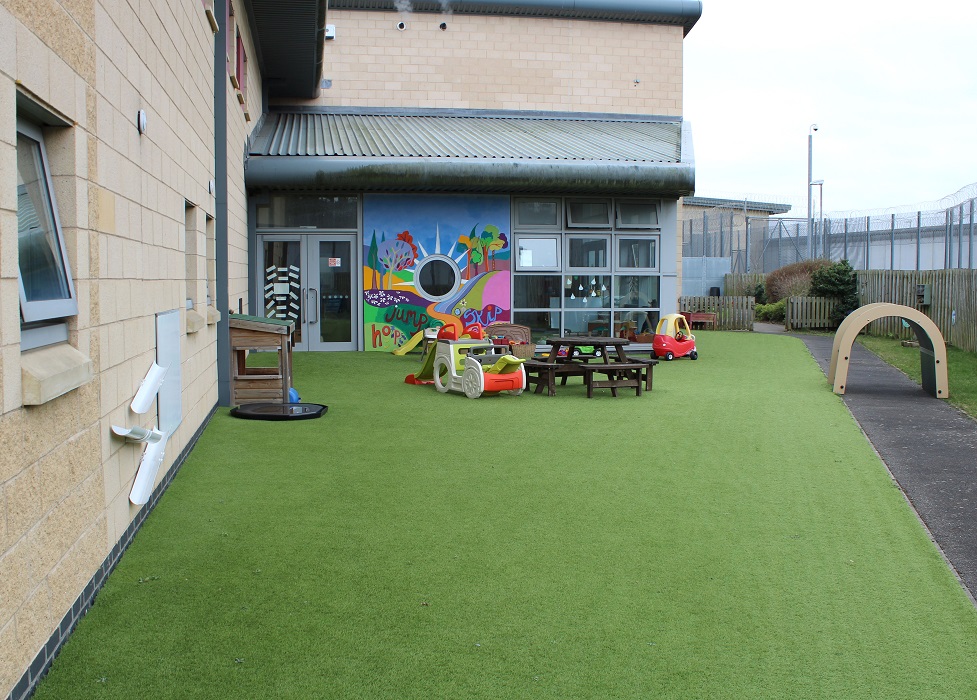 The Mother and Baby Unit (MBU) is a separate building within the establishment, providing accommodation that can enable prisoners to have their baby with while they are in prison. It offers a positive environment where the bond between mother and baby can develop while they complete their sentence or while they are held on remand. The unit has accommodation for up to 12 women and 13 children, allowing for twins or two children under 18 months old.
We want to make sure that the environment is as normal as possible for the benefit of the children. To help to achieve this, the internal doors within the unit and the cell doors are not locked. There is a kitchen where the mothers can prepare food for their baby, building independence. Together with the laundry facilities, the unit is designed to create a feeling of normal daily life.
To enable prisoners to attend work, training and education within the prison, our MBU includes a purpose-built nursery. Prisoners are able to drop their child off at the nursery before going to work, just as they would in the wider community.
With a team of fully trained nursery nurses, each having a minimum of Level 3 Childcare, our facilities have been rated 'outstanding' by OFSTED. As well as caring for the child, they are on hand to help the mothers become as independent as possible as parents.
Our MBU has a lovely homely feel with a relaxed routine in the nursery. Babies have lots of opportunities to explore the activities that are set daily, which are focussed around the needs of each individual child.
The emphasis of the nursery is learning through play. The children are encouraged to join in with lots of different activities including messy play, role play, singing nursery rhymes and story time. We also have a garden area where the children can play safely outside with their mum and the unit staff.
To help with their natural development, the babies are taken out into the community by the nursery nurses, allowing them to explore the environment outside of the prison. Each of them has their own 'learning journey', recording and celebrating their progress through observations and photographs. Prisoners take these with them when they leave the unit, along with a CD of any photos that have been taken during their time on the unit.