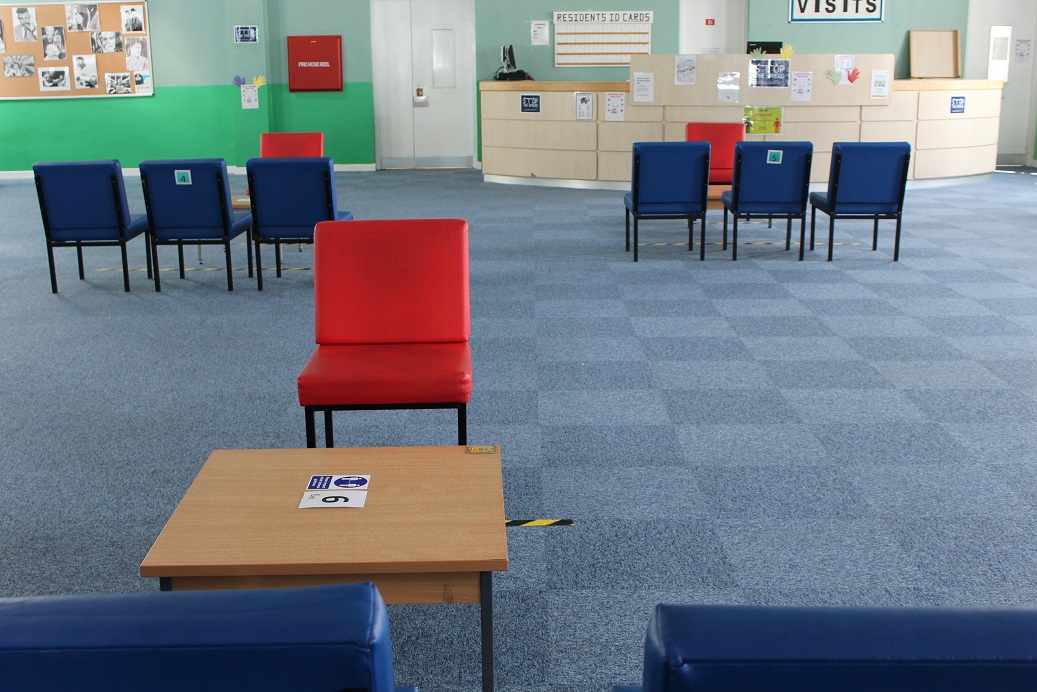 Peterborough is now classified as a Tier 4 area under Covid-19 restrictions.
Social visits: In line with Tier 4 restrictions, all social visits have been suspended until further notice.
We are offering residents access to Purple Visits, which are video calls that enable visual contact with loved ones during this challenging time, maintaining all-important family links. To access a Purple Visit, you will need to download the app (available here) onto your tablet or smart phone - please note, this system does not run on laptops or PCs. You will need to ensure that you have a good level of signal strength to have a smooth connection for the duration of your visit. All calls are live monitored to ensure all rules are being adhered to. To activate a Purple Visit, you will need to register on their website and provide the proof of identification required. You can have up to a maximum of four people on the call - they all need to be in the same room and each registered for the call. For full details, please visit www.purplevisits.com
Types of visit
Details about the social (friends and family), legal and official (residents who do not receive social visits) visits allowed at HMP YOI Peterborough.
Social visits:
In line with Tier 4 restrictions, all social visits are suspended until further notice.
Legal visits: We are now offering legal visits and recommend, where possible, that these are conducted in a 'virtual' format via our video conferencing facilities. In-person visits take place in our visits halls using appropriately socially distanced tables to provide confidentiality. Sessions are available for 45 minute slots to facilitate appropriate cleaning of the visits hall.

They are available Monday to Friday, beginning on the hour - 9am, 10am and 11am - for 45 minutes duration.

If a longer appointment is required, this can be arranged by request and according to availability. In line with current guidance, face coverings must be worn throughout the duration of the legal visit. No paperwork will be permitted to be handed over as all visits are zero contact. Please note that the legal visits booths are not available at this time as they are in use for Purple Visits, supporting resident/family contact. If you wish to bring a laptop with you for your visit, please ensure that you follow the appropriate procedure to gain authorisation to bring the item in with you. If you do not obtain authorisation, you will not be permitted to bring such items into the prison.
Official Prison Visitors (OPVs): OPVs are volunteers who come into the prison to visit residents who would otherwise not have any visitors. They are members of the public with whom residents can talk in confidence, establishing a degree of trust and mutual understanding. To find out more contact pb.chaplaincy@sodexogov.co.uk - Please note, we are not currently operating OPVs at this time.
Visiting times
We are operating Purple Visits to enable residents to have video calls with friends and loved ones. Legal visits are currently continuing, although we recommend that appointments be carried out via telephone or using our Video Conferencing Centre where possible.
Social Visits
In line with Tier 4 restrictions, all social visits are currently suspended until further notice.
Purple Visits
We are pleased to offer all residents access to the online app, Purple Visits, enabling video call visits with family and friends. This is a great way for you to support residents while the current restrictions on social visits are in place.
Residents can book a session through the internal booking system - please note that to participate in a Purple Visits session you must first download the app to your mobile device (not laptop) to enable the booking to be confirmed. To download the app please visit https://www.purplevisits.com/
Our Purple Visits sessions are now only available in the evening and at the weekend (both male and female prisons), as a result of demand for use of the booths by Courts.
Sessions available to book appear in purple, any time slots shown as grey are not available.
Purple Visits schedule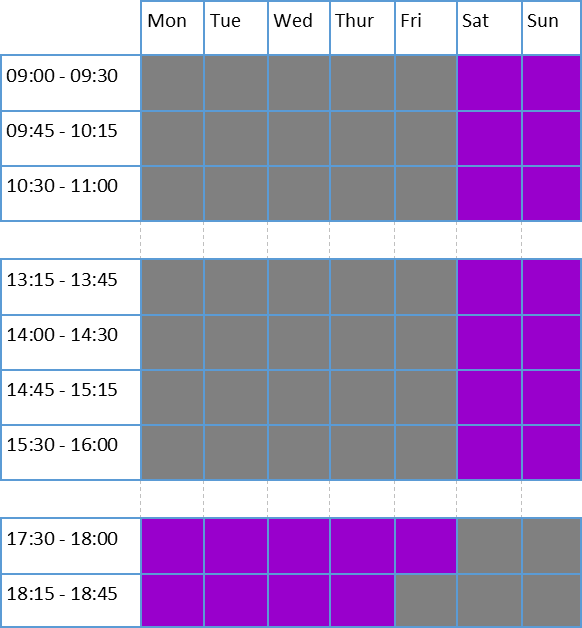 If you experience any difficulties in registering or when using the Purple Visits system, please use their online chat facility to ask for support. You can access this via the link above.
If you find you are having difficulties during a Purple Visit, call the prison switchboard on 01733 217500. We'll put you through to one of our advisers who can share simple tips on getting the best out of your call. This service is available 9:00-4:30 Monday to Friday only.
Only those confirmed for the visit can participate - please be advised that any unregistered guests (including pets) appearing on the call will cause the system to freeze until they leave the area.
Participants over the age of 18 must each create their own profile on the Purple Visits app and upload a photo, together with the relevant ID required. Children need to upload a 'selfie' on the day of the scheduled visit and must be registered for the session by the lead visitor (as named by the resident). It is the responsibility of the lead visitor to ensure that details of all participants (max 4) are registered for the same visit session. Please bear in mind that it can take up to 48 hours for your ID to be verified by the Purple Visits system, so make sure that you allow plenty of time for everything to be processed successfully.
How to book a visit
Social visits are currently suspended in line with Tier 4 restrictions until further notice. Purple Visits are available for video calls with friends and loved ones.
Before and during visits - please read this section carefully
Social visits are currently suspended in line with Tier 4 restrictions.
Meeting a resident on their release
Details about meeting a resident on the day of their release.
You will need to wait outside of the prison for the resident to be released. We are currently unable to offer a waiting area and you will not be able to make use of the toilet facilities.
What you can bring or send in for residents
We DO NOT accept Amazon parcels or food deliveries addressed to residents.
We are currently unable to receive any property delivered in person to the prison. All items must be sent in via the post, then the resident can obtain them from reception.
Please note, we DO NOT accept Amazon parcels or food parcels (eg fresh produce) addressed to residents.
Please check the list of prohibited items to make sure you are not trying to bring or send in banned items.
How we collect and use your data
COLLECTION OF DATA
In order to facilitate your visit to one of our prisons and to ensure that we deliver appropriate levels of security and safety and prevent crime, for identification purposes we shall collect your name, date of birth, address, a biometric template of your fingerprint and a photograph. A series of reference points from a finger print are collected, allowing a unique identification pattern. We do not collect or hold actual fingerprints.
Our prisons operate CCTV and staff may wear Body Worn Video Recording Equipment. We do not collect biometric readings or photographs of children under 16, however with the use of CCTV, images may routinely be captured.
DATA SHARING
We will only share your information with a third party where there is a legal obligation to do so.
RIGHTS OF ACCESS, CORRECTION, ERASURE AND RESTRICTION
You have legal rights in connection with personal information. Under certain circumstances, by law you have the right to:
Request access to your personal information (commonly known as a "data subject access request"). This enables you to receive a copy of the personal information we hold about you and to check that we are lawfully processing it.
Request correction of the personal information that we hold about you. This enables you to have any incomplete or inaccurate information we hold about you corrected.
Request erasure of your personal information. This enables you to ask us to delete or remove personal information where there is no good reason for us continuing to process it. You also have the right to ask us to delete or remove your personal information where you have exercised your right to object to processing.
Object to processing of your personal information by us or on our behalf in certain situations.
Request the restriction of processing of your personal information. This enables you to ask us to suspend the processing of personal information about you, for example if you want us to establish its accuracy or the reason for processing it.
DATA RETENTION
We keep personal data in accordance with our clients' and Sodexo's retention procedures. These retention periods depend on the nature of the information (e.g. we apply different retention periods to different type of information such as CCTV and your visitor record), and may be subject to change.
If you have any questions or concerns about how long we retain your personal data, please contact the Data Protection Officer using the details below.
FURTHER ADVICE / GUIDANCE
To exercise your rights, you can contact us by writing to us at the following address: dataprotection.ukandie@sodexo.com or email the Global Data Protection Office at the following email address: dpo.group@sodexo.com stating your surname, first name and the reason for your request. We will most likely ask you for additional information in order to identify you and to enable us to deal with your request
You also have the right to contact the Information Commissioner's Office and file a complaint. (https://ico.org.uk/concerns/)