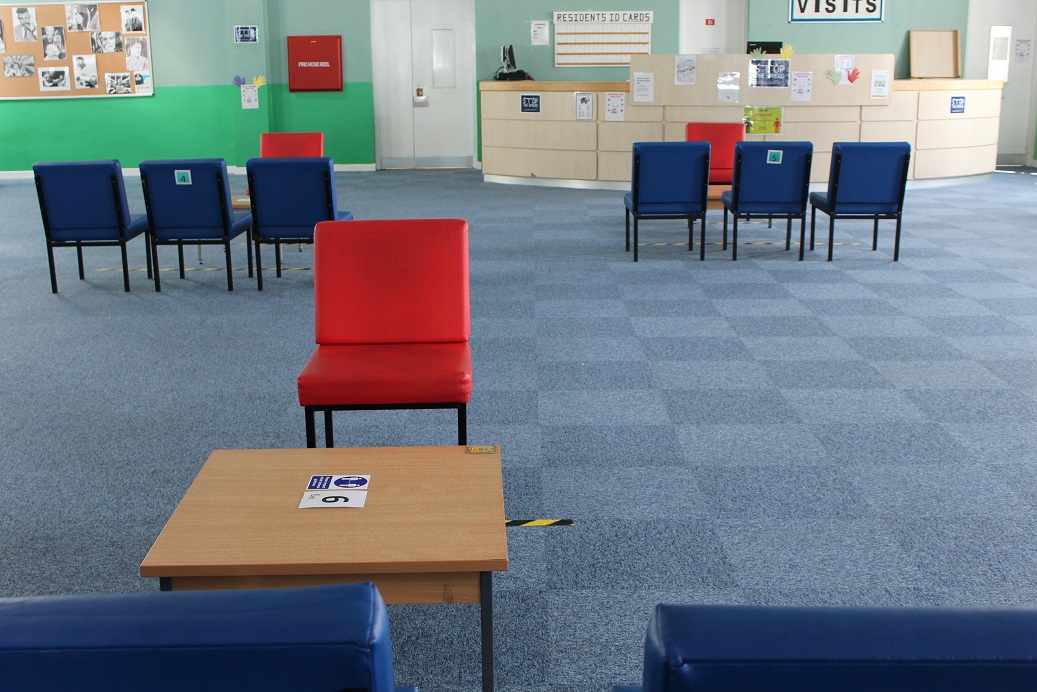 Social visits: We are pleased to be able to resume social visits for our male residents from Monday 17 May 2021. Please note that social distancing guidelines will remain in place at the current time, including the no-contact rule.
We are offering residents access to Purple Visits, which are video calls that enable visual contact with loved ones during this challenging time, maintaining all-important family links. To access a Purple Visit, you will need to download the app (available here) onto your tablet or smart phone - please note, this system does not run on laptops or PCs. You will need to ensure that you have a good level of signal strength to have a smooth connection for the duration of your visit. All calls are live monitored to ensure all rules are being adhered to. To activate a Purple Visit, you will need to register on their website and provide the proof of identification required. You can have up to a maximum of four people on the call - they all need to be in the same room and each registered for the call. For full details, please visit www.purplevisits.com
Types of visit
Details about the social (friends and family), legal and official (residents who do not receive social visits) visits allowed at HMP YOI Peterborough.
Social visits:
Social visit: We will resume visits for our male residents as of Monday 17 May 2021. We are already offering social visits for our female residents.
Legal visits: We are now offering legal visits and recommend, where possible, that these are conducted in a 'virtual' format via our video conferencing facilities. In-person visits take place in our visits halls using appropriately socially distanced tables to provide confidentiality. Sessions are available for 45 minute slots to facilitate appropriate cleaning of the visits hall.

They are available Monday to Friday, beginning on the hour - 9am, 10am and 11am - for 45 minutes duration.

If a longer appointment is required, this can be arranged by request and according to availability. In line with current guidance, face coverings must be worn throughout the duration of the legal visit. No paperwork will be permitted to be handed over as all visits are zero contact. Please note that the legal visits booths are not available at this time as they are in use for Purple Visits, supporting resident/family contact. If you wish to bring a laptop with you for your visit, please ensure that you follow the appropriate procedure to gain authorisation to bring the item in with you. If you do not obtain authorisation, you will not be permitted to bring such items into the prison.
Official Prison Visitors (OPVs): OPVs are volunteers who come into the prison to visit residents who would otherwise not have any visitors. They are members of the public with whom residents can talk in confidence, establishing a degree of trust and mutual understanding. To find out more contact pb.chaplaincy@sodexogov.co.uk - Please note, we are not currently operating OPVs at this time.
Visiting times
We are pleased to be able to offer social visits for all of our residents from Monday 17 May 2021, subject to Covid-19 prison guidelines. We are operating Purple Visits to enable residents to have video calls with friends and loved ones. Legal visits are currently continuing, although we recommend that appointments be carried out via telephone or using our Video Conferencing Centre where possible.
Social Visits
Social visits for male residents will resume from Monday 17 May 2021 (female social visits are already available). Visits must be booked by the resident via our internal process and they must ensure that anyone they wish to visit them is registered on their 'approved visitors' list.
Visits will initially be offered in the afternoon only - 13:30 and 15:15 for one hour
No physical contact will be permitted and may result in your visit being terminated
All visitors and residents will be required to wear face coverings throughout the visit
Visitors must be close family (spouse/partner/parent/foster parent/grandparent/child/carer) and must be from the same household
Visits will begin and end promptly, so please make sure that you are on time for your session
Lateral Flow Device tests are available in our visits reception area, should you wish to be tested for Covid-19 prior to your visit - if so, please allow for the 30 minutes required to receive a result ahead of your visit time; you will not be able to wait inside the prison during this period
Purple Visits
We are pleased to offer all residents access to the online app, Purple Visits, enabling video call visits with family and friends. This is a great way for you to support residents while the current restrictions on social visits are in place.
Residents can book a session through the internal booking system - please note that to participate in a Purple Visits session you must first download the app to your mobile device (not laptop) to enable the booking to be confirmed. To download the app please visit https://www.purplevisits.com/
Our Purple Visits sessions are now only available in the evening and at the weekend (both male and female prisons), as a result of demand for use of the booths by Courts.
Sessions available to book appear in purple, any time slots shown as grey are not available.
Purple Visits schedule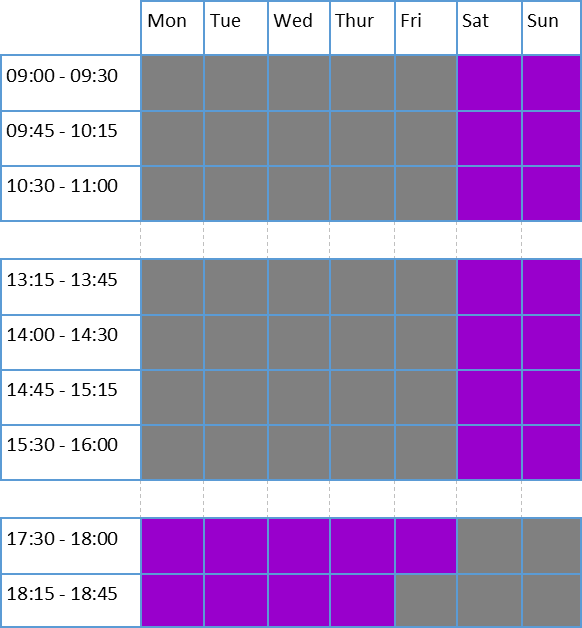 If you experience any difficulties in registering or when using the Purple Visits system, please use their online chat facility to ask for support. You can access this via the link above.
If you find you are having difficulties during a Purple Visit, call the prison switchboard on 01733 217500. We'll put you through to one of our advisers who can share simple tips on getting the best out of your call. This service is available 9:00-4:30 Monday to Friday only.
Only those confirmed for the visit can participate - please be advised that any unregistered guests (including pets) appearing on the call will cause the system to freeze until they leave the area.
Participants over the age of 18 must each create their own profile on the Purple Visits app and upload a photo, together with the relevant ID required. Children need to upload a 'selfie' on the day of the scheduled visit and must be registered for the session by the lead visitor (as named by the resident). It is the responsibility of the lead visitor to ensure that details of all participants (max 4) are registered for the same visit session. Please bear in mind that it can take up to 48 hours for your ID to be verified by the Purple Visits system, so make sure that you allow plenty of time for everything to be processed successfully.
How to book a visit
Residents are able to book social visits via our internal process. Purple Visits are available for video calls with friends and loved ones.
Before and during visits - please read this section carefully
Social visits in the male prison resume from Monday 17 May, meaning we are able to offer visits for all residents.
To be able to offer visits in a way that keeps our residents, their visitors and our staff safe, we have made a range of changes to the way in which we book and operate social visits. The information below will help to explain some of those changes - please make sure that you familiarise yourself with the new requirements so that you know what to expect when you are arranging a visit.
Key changes to be aware of:
No physical contact is permitted - that's no hugs, no handshakes and no kissing. This also applies to children, so please consider what impact this may have before choosing to bring a child to the prison. This rule will still apply for now even when restrictions in the community have been relaxed.

Visitors are required to wear a face covering throughout their visit, from the time they arrive at the prison until they leave (children under 11 yrs are exempt)

Visitors are seated 2m from the resident and everyone must remain seated at all times (including children) - there are no screens between you as we want to make the visit as comfortable as it can be in the current circumstances, but physical contact is not permitted

Visits last for one hour and will begin and end promptly, allowing time for thorough cleaning before the next visit session

Lateral Flow Device testing is available in our visits entry area, should you wish to be tested for Covid-19 prior to your visit - if so, please allow for the 30-minute development time prior to your visit; you will not be able to wait inside the prison during this time
We are constantly reviewing our procedures to ensure that we are offering you the best possible visits experience possible during these challenging times.
We understand that visiting a prison can be quite daunting, especially if it is your first visit, so we try to make your experience as positive as possible. We want you to enjoy your visit so we operate a zero tolerance for violence and aggressive behaviour to help us maintain a calm, friendly environment.
We also operate a zero tolerance policy for drugs and alcohol - we reserve the right to refuse entry to any visitor suspected of being intoxicated in any way.
Please note, any visitors aged 17 years or under must be accompanied by an individual of at least 18 years of age. Any visitors under the age of 17 must have appropriate identification.
Security: As you would expect, security is a major consideration for us so all visitors are required to comply with our rules of conduct and behaviour. Please make sure that you read the list of prohibited items carefully to avoid any confusion or delays.
Before your visit:
We can only allow a maximum of 3 visitors per visit. This can be made up of:

1 adult and 2 children

2 adults and 1 child

2 adults

1 adult

All visitors MUST be from the same household. We cannot accept visitors who are from different households. You will need to have ID with you to prove that you are from the same address – it needs to be photographic ID with your address, including the postcode.

These must be less than three months old.





Accepted forms of photo ID are:




- Driving licence (photo card)




- Valid passport




- Citizenship card




- Bus pass




- Blue Badge with photo





If you do not have photo ID you should bring either your birth certificate plus two utility bills or bank/building society statements. Or you can bring three utility bills/bank or building society statements – each must be from a different organisation.

Our staff are authorised to refuse entry if they are not satisfied that the documentation provided proves the identity of the visitor.

You will not be allowed to bring any property with you for a resident. You will need to post it in for them, then they can collect if from reception.

Face coverings are a mandatory requirement. You will be required to wear a face covering from the time you arrive at the prison, walking to and from the visits hall, and for the duration of the visit. Failing to wear a face covering will result in you being refused entry or your visit being terminated. Children under the age of 11 are not required to wear a face covering.

When you arrive at the prison your temperature will be taken using a remote thermometer and you will be asked questions regarding Covid-19 symptoms. This is to check that you are well and can be allowed in for the visit. Anyone showing symptoms of Covid-19 will not be allowed to enter the prison.

Please ensure that you are appropriately dressed and be aware of our zero tolerance to drugs, alcohol and violence.

Our staff are permitted to refuse your visit if they deem your clothing inappropriate, if you appear to be under the influence of drugs or alcohol, or your behaviour/language is unacceptable.
You will need to abide by the 2-metre social distancing guidance. All prisons are maintaining this distance to help minimise risk in the prison environment. Anyone unwilling to follow social distancing measures and instructions will be asked to leave.

You are expected to use the hand washing facilities and hand sanitiser stations available on entry and exit and throughout the visits areas. Good hand hygiene helps to reduce the risk of transmission of Covid-19.

Photographs and finger printing

-

you'll book in for your visit where your name, identification and booking details will be checked

.

If it is your first visit you will have your photo taken and fingerprint scanned

.

These will be checked each time you visit.

Prohibited items - When you have booked in, you will need to use a locker to deposit any prohibited items, such as keys, mobile phones, cigarettes, tobacco, lighters, vapes and capsules etc. Peterborough is a smoke free prison, so anything related to smoking is now considered a prohibited item. Please note, all 'smart wear' capable of storing data or receiving/transmitting data is also prohibited. This includes items such as fitness trackers (eg Fitbit, Garmin etc) and all 'smart' watches.
Please

read the list of prohibited items

carefully.
Locker storage - You will need a £1 coin to operate the lockers.
Please note that it needs to be the 12-sided £1 coin.

Please make sure that you do not arrive too early before your scheduled visit time. You will not be allowed to enter the prison as there is no waiting area available.

Security and searching – you will be required to pass through airport-style security. Items such as shoes will be passed through a scanner and you will walk through a metal detector. You will be asked to demonstrate that you are not carrying any items on your person; this will be a non-contact search carried out by our staff. If you refuse to comply with these requirements you will be refused entry to the prison.

There may be dogs working at the prison – please do not try to pet them as they are working animals.
During your visit
You will not be allowed to make any contact with the resident you are visiting. That includes no kissing, no hugging, no holding hands and so on, including at the end of your visit. Please make sure that any children visiting with you understand this.

You will be required to remain seated throughout your visit. You won't be allowed to move any tables or chairs. Children are also required to remain seated for the duration of the visit. Play areas are closed and therefore not available.

There will not be any refreshments available and you are not allowed to bring any food or drink in with you.

Toilet facilities will be available, but they will be running on a strict one-in, one-out policy.
Meeting a resident on their release
Details about meeting a resident on the day of their release.
You will need to wait outside of the prison for the resident to be released. We are currently unable to offer a waiting area and you will not be able to make use of the toilet facilities.
What you can bring or send in for residents
We DO NOT accept Amazon parcels or food deliveries addressed to residents.
We are currently unable to receive any property delivered in person to the prison. All items must be sent in via the post, then the resident can obtain them from reception.
We accept books for residents sent directly from friends or family, or via our approved retailers. These are Waterstones, WH Smith and prisons.org.uk - we do not accept books purchased via Amazon. All books are subject to security protocols and must be sent separately, they cannot be accepted as part of a property parcel.
Please note, we DO NOT accept Amazon parcels or food parcels (eg fresh produce) addressed to residents.
Please check the list of prohibited items to make sure you are not trying to bring or send in banned items.
Click here to see what you can and cannot send in for residents.
How we collect and use your data
COLLECTION OF DATA
In order to facilitate your visit to one of our prisons and to ensure that we deliver appropriate levels of security and safety and prevent crime, for identification purposes we shall collect your name, date of birth, address, a biometric template of your fingerprint and a photograph. A series of reference points from a finger print are collected, allowing a unique identification pattern. We do not collect or hold actual fingerprints.
Our prisons operate CCTV and staff may wear Body Worn Video Recording Equipment. We do not collect biometric readings or photographs of children under 16, however with the use of CCTV, images may routinely be captured.
DATA SHARING
We will only share your information with a third party where there is a legal obligation to do so.
RIGHTS OF ACCESS, CORRECTION, ERASURE AND RESTRICTION
You have legal rights in connection with personal information. Under certain circumstances, by law you have the right to:
Request access to your personal information (commonly known as a "data subject access request"). This enables you to receive a copy of the personal information we hold about you and to check that we are lawfully processing it.
Request correction of the personal information that we hold about you. This enables you to have any incomplete or inaccurate information we hold about you corrected.
Request erasure of your personal information. This enables you to ask us to delete or remove personal information where there is no good reason for us continuing to process it. You also have the right to ask us to delete or remove your personal information where you have exercised your right to object to processing.
Object to processing of your personal information by us or on our behalf in certain situations.
Request the restriction of processing of your personal information. This enables you to ask us to suspend the processing of personal information about you, for example if you want us to establish its accuracy or the reason for processing it.
DATA RETENTION
We keep personal data in accordance with our clients' and Sodexo's retention procedures. These retention periods depend on the nature of the information (e.g. we apply different retention periods to different type of information such as CCTV and your visitor record), and may be subject to change.
If you have any questions or concerns about how long we retain your personal data, please contact the Data Protection Officer using the details below.
FURTHER ADVICE / GUIDANCE
To exercise your rights, you can contact us by writing to us at the following address: dataprotection.ukandie@sodexo.com or email the Global Data Protection Office at the following email address: dpo.group@sodexo.com stating your surname, first name and the reason for your request. We will most likely ask you for additional information in order to identify you and to enable us to deal with your request
You also have the right to contact the Information Commissioner's Office and file a complaint. (https://ico.org.uk/concerns/)